Water Pump and Related Parts for 2006 Dodge Charger
No.
Part # / Description
/ Price
Price
Backordered
Hex Head Bolt And Coned Washer, Mounting
Hex Screw And Washer
M8x1.25x35.00. Timing Case Cover To Cylinder Block. Mega Cab. Water pump to frt cvr. Water Pump To Cover. Front Cover To Engine Block [M8x1.25x35.0]. Tensioner to Block. Quad Cab. Regular Cab.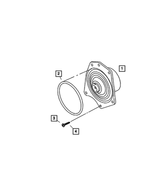 Water Pump
Includes Gasket and Pulley.
Discontinued
Discontinued